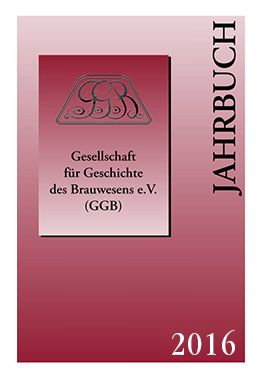 pages:
..., zahlreiche Abbildungen

Table of contents
Foreword - 3
Wolfgang D. Speckmann: Würzburg: "The wine barrel on the motorway"? *) - 8
Peter Hahn: History of brewing legislation in the late Middle Ages and the significance of the Purity Law - 20
Peter Lietz: The Medieval Purity Laws and their Significance for the Development of Food Law in Germany - 49
Wolfgang Kunze: Supplementary report by contemporary witness Wolfgang Kunze on the study situation in Berlin after 1945 - 73
Andreas Urhanek: The History of the Gorkau Societätsbrauerei A.-G. - 91
Wolfgang Kunze: The education and training of young brewers and maltsters in the GDR - 125
Jochen Sprotte: The History of Lederer-Bräu in Nuremberg *) - 149
Wolfgang D. Speckmann: On the brewing industry in Gardelegen *) - 182
Werner Schade: University education in the field of general and industrial microbiology for students of brewing and related subjects at the Humboldt University of Berlin - 197
Jürgen Birk: 200 Years of Rheinhessen - 200 Years of Rheinhessen Beer *) - 205
Rolf-H. Thomas: From the factory rooms of the cork factory Wm. Merkel zu Raschau in the Ore Mountains *) - 220
Reinhard Zwanzig: 25 years in the service of Saxon beer *) - 267
Hans-J. Manger: On the history of the brewing school in Grimma *) - 281
Heinrich Tappe: 10 years of the Dortmund Brewery Museum on Steigerstraße - 298
Reviews - 302
Received literature -309
78th Annual General Meeting in Würzburg Report of the Managing Director - 319
Minutes - 325
Addendum to the Yearbook 2013:
Minutes of the 76th General Meeting 2013 - 334
Statutes of the Society for the History of Brewing - 338
Board of Directors, Executive Director, Members - 342
Index - 351
Notes on corrections to the GGB Yearbook 2015 - 354
Notes for Authors - 354
List of Authors - 355
List of advertisers - 356
*) This article is also available as a PDF file with extended content and colour illustrations.
At this point we would again like to appeal to our members and readers to get involved and take up the pen for the next issues of the yearbooks. At the end of the yearbook you will find the "Notes for Authors".