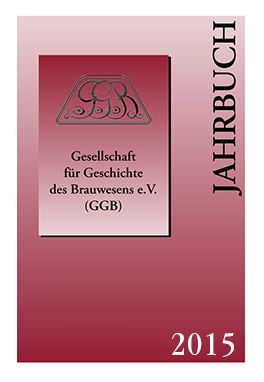 pages:
..., zahlreiche Abbildungen

Table of contents
Foreword - 3
Peter Lietz: The Development of Modern Operational Control under Ferdinand Stockpausen and Richard Koch *) - 8
Klaus-P Gilbertz: A cerevisiological Mediterranean cruise one hundred years ago - Part 3: From Trieste to Constantinople *) - 43
Andreas Urbanek: The History of the Royal Domain Brewery in Proskau with its Branches in Gogolin, Schönwitz and Oppeln *) - 80
Marc u. Heinrich Chudaska: The Actien-Brauerei Dornvagen: A Contribution to the History of Beer and Business in Dormagen *) - 99
Lars Rosinsky: The tradition of the Kulmbacher Mönchshofbräu *) - 115
Karl Heinz Luthardt: On the history of the breweries in Steinach/Thuringia *) - 133
Jochen Vogel: Known and unknown beer brands of Steinach/Thuringia *) - 166
Hans-J. Manger: On the history of the brewing school in Lehesten/Thuringia *) - 185
Detlef Münch: On the history of the Middle Franconian brewery inn "Schwarzer Adler" of the Münich family in the Bamberg exclave Oberscheinfeld 1710-2015 *) - 197
Leopold Heyl: As a brewer you are always on the move *) - 228
Joachim Wörner: The history of the Erbacker Brauhaus *) - 256
Dagmar and Gunter Stresow: From grandfather times - Brewing regulations for the town of Greußen - 263
Gunter Stresow: Reflections and amusements from Radeberg's brewing history - 279
Michael Viktorik: On the trail of Bruno Winter, the co-founder of the "Society for the History and Bibliography of Brewing" *) - 296
Wolfgang D. Speckmann: When iron art pleases the eye *) - 307
Reviews - 316
Received literature - 318
77th Annual General Meeting 2014 in Mannheim
Report of the Executive Director - 330
Minutes - 338
Statutes of the Society for the History of Brewing - 341
Board of Directors, Executive Director, Members - 345
Index - 355
List of Authors - 358
Notes for Authors - 359
List of advertisers - 360
*) This article is also available as a PDF file with extended content and colour illustrations.
At this point we would again like to appeal to our members and readers to get involved and take up the pen for the next issues of the Yearbooks. At the end of the yearbook you will find the "Notes for Authors".